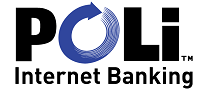 POLi allows you to make a payment for goods at your favourite online retailer, pay for travel, or to pay a bill using money straight from your bank account. POLi is safe and secure and lets you use your Internet Banking to make the payment.
POLi has been operating in New Zealand since 2007. Land Transport New Zealand (now the New Zealand Transport Agency) was the very first merchant to offer POLi payments to their customers, and since then many other government agencies, airlines, online retailers and billers have joined in to offer their customers a more convenient and safe way to pay.

Checkout POLi payments at Air New Zealand, The Warehouse, PB Technologies, Intercity, Nakedbus, Interislander, Postie, Jetstar, Top 10 Holiday Parks, and Helloworld. POLi is also available at a wide range of online shopping sites and you can even use POLi to buy gaming credits on Facebook.

Now you can use POLi to buy great shaving equipment from The Auckland Razor Company